We've been around since 2007. That makes us one of the oldest and most respected membership sites on the internet! There have been well over 10,000 pay per click marketers through this very site since we opened. Below you'll find some kind words that people have sent to us. If you have a testimonial that you'd like us to add, please contact us and let us know!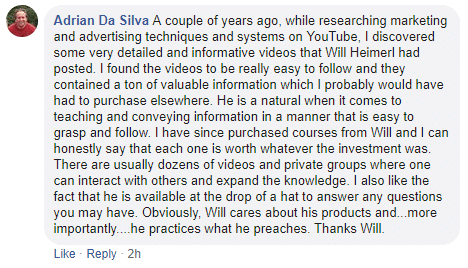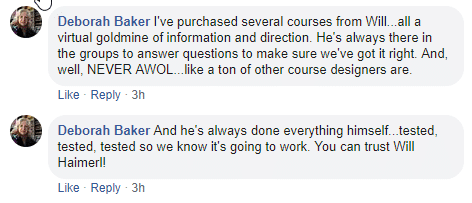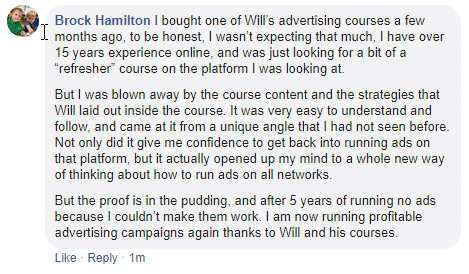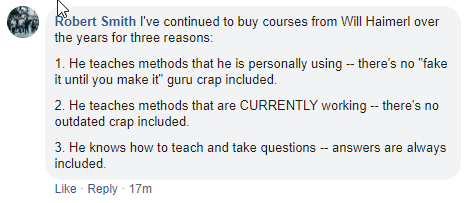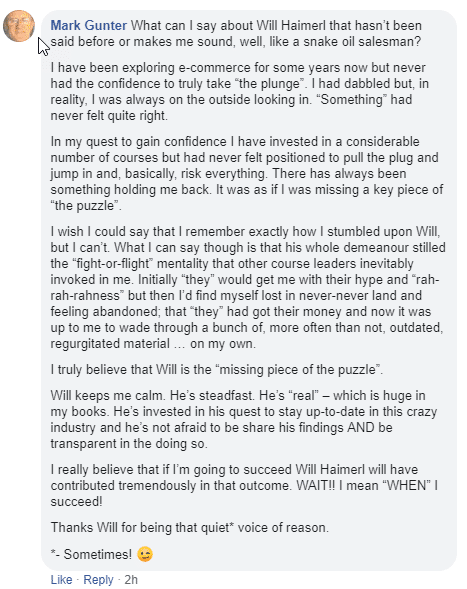 ---
Testimonial From: S
Coach,
thanks for all the help. No one thing, just everything on the site in particular. I haven't been over 1/10th of it yet and I'm hitting consistent figures good enough to quit my job. I'm still going to work, but I probably won't be for too much longer.
I just wanted to thank you for helping me find an opportunity that is going to change my life – I'm still pinching myself that this money is hitting my account every single day.
Thank you.
S
---
Testimonial From: joshel
I would like to say since I have joined the PPC-Coaching program I have learned a lot, the videos are priceless and the forum is one of the best I have been on. you can find so many problems solved just in the forum. I do have to mention the tools they are awesome
---
Testimonial From: willyg78
I came across PPC Coach whilst searching google for website promotion techniques. I've been doing web design and SEO work for close to 2 years now in my spare time, and am all too aware of the latest product from the best guru's in the business. So I was 'on guard' at first.
I searched the internet high and low and read nothing but great reviews about Will (PPC-Coach), his coaching website and his fine moderators and assistant coaches.
I joined the same day.
When you join, you start as a newbie, with access to only Month 1 materials, then as each month of your membership goes by, you get access to further month materials, there is a reason for this and it's to ensure that you are not overwhelmed with some of the more advanced techniques. The guys that have been there for years still using solely techniques taught in month 1 and are making serious money this way.
As a member of PPC-Coach, you are a member of a community. A community of PPC specialists that do not keep the techniques to themselves, or leave important details out. Techniques are revealed step by step, support is given via a helpdesk and forum, and more importantly, newbies do not get harrassed for asking silly questions, like they get on other forums.
If you're serious about making money with PPC, and not afraid to invest money to make money. Take the first step and join the rest of us in a community that welcomes new members with open arms.
---
Testimonial From: mickeyD1
I did a ppc course last year and paid $2000 and it was over after 13 weeks and I felt confused and I did not get value for money, I seen other courses at similar prices but I had learnt my lesson, and was turned of the ppc business, 1 year later I returned for a second chance and all because I found exactly what I wanted a coach and his community of moderators and fellow ppc marketers all there to help me and now Im part of a community of people who are there to help anytime and I dont have to pay a fortune for this quality but only $50 a month, can you believe it, I signed up for the $1 two week trial just to see if it was real and it is , I wish I had known about PPC Coach before I went and invested in a $2000 course. What I have learnt in the first month has given me confidence that I can succeed in this business.
---
Testimonial From: Nunofb
PPC Coach is awesome. It has the best tools and information you'll ever find online about internet marketing. And most importantly, there is a program that guides you through the entire learning process of how to become a successful internet marketer and also the constant feedback of the coach!
---
Testimonial From: freedom777
If you want to become SERIOUSLY RICH! – I mean earning 7-8 figures per annum… then this is a very very good start!. The chances of building another facebook is slim and risky, but doing affiliate marketing can be LEARNED and it is NOT a luck of the draw kind of system. I LOVE depending upon systems whereby my work and talent plays a goal – and the program offered by ppc-coach.com does just that! – I hate luck and lucky things… I prefer statistics, numbers and REAL SUCCESS based on HARD WORK and PROPER TRAINING. I would laugh if I am not a millionaire within 3 years of utilizing the techniques on the system! If you want to become seriously rich and financially independent – then JOIN NOW!
I MUST SAY in all business you have a capital layout… (i.e. you invest before you get!) – here you only have to invest a MERE $1 and you can get 14 days of the BEST INFORMATION available on the net right now! Thereafter you have to pay $50 per month…. to receive returns of (as some has) over $3000 per day! Even Warren Buffet would be falling of his chair had he known about this deal in his younger days! Miss it and you miss your financial life!
---
Testimonial From: Chris
I wanted to let you know that when my subscription ran out a couple of months ago due to some Paypal issues I had been having I decided to try out a competitor's site because at the time Paypal was my only option for paying on this site and since it wasn't working I tried a site that allowed for a different payment method. While their program is okay and everyone seemed nice, it was very very basic, like literally starting out from square one (this is how you get a hosting account…etc..). There is some interesting stuff on Facebook but I'm not sure how much more. Maybe it's better in later months but mainly it just impressed on me the desire to get back in this program where the techniques are more advanced and the "success stories" are more than just a few pages.
I'm glad to be back. I thought you might want to hear a take on the competition.
---
Testimonial From: DirtyBasH
I'm new in the affiliate buisness but if I start something, I do it excessive – so I bought more than 3 seminars or course which are promoted on the internet from "Affiliate Gurus". They taught me a lot of good stuff and all teachers want you to give the message "Everbody could succeed with my teaching". This is completly wrong – They told you this only to get a high peek of selling their stuff! The big difference on PPC Coach is, they dont lie to get your money. They told you, that affiliate marketing is a hard way to get a very successfull story and not everbody could do this. If somebody think every day he spent 1 hour and get a profit of 4 digits a day, he took the wrong buisness…..
---
Testimonial From: j0hnnycl1ckz
If you want to learn the art of pay per click marketing then ppc-coach.com is a must. There is so much information in the forum that can get you up and running in no time. Not to mention all the great tools we get access to for the price of the membership. Really unbelievable stuff. Thanks to ppc-coach.com, I am finally turning my .com dreams into reality!
---
Testimonial From: xiangwu
Here is my testimonial.
When I was stuck with Google PPC campaign for promoting one of my own products, I did two things. One, I hired a guy at UK from eLance to fix my Google PPC campaign, secondly, I've searched the Internet for useful recourse on PPC.Searched on the key word of "ppc coach", guess what I landed at this site. After read all literature on the website, I decided to join. For $50 a month, that is a real bargain comparing to other information product I have purchase before.
Guess what, it is a mistake, the main forucs of PPC-Coach is teaching the business of PPC Affiliate, not really meant for promoting my own product. However, it is a great mistake because you simply can't find other place on the Internet could teach you everything about the world of PPC and how to succeed in your business using PPC either promote your own product or make money as an affiliate.
It is a site with energetic people who are eager at giving back to this community once they are successful with their own PPC affiliate business. There are tons and tons of great information about PPC and Internet market. I agree with PPC Coach that the only way to learn is by doing it. Of course, you can ask questions and even get the coach to look at your Google Adwords account and tell you what is wrong from his experience.
In 3 weeks, I know I have learned enough to beat the expert who was running Google Adwords campaign for me. At the end, I fired him and took over the account. With one technique I have learned from PPC coach, I have lowered my cost on one of Google campaigns by 50%.
It is also a proven money making strategy that is appropriate for people like me who doesn't want to work for 9-5 job, now I am diversifying from my own product building by doing PPC Affiliate following PPC-Coach's foot steps.
The success formula is here:
* Proven formula for success
* Like-minded people to motivate and inspire you
* Tools, Videos, and tons of information in the forum
* Coaches to hold you hand and walk you through the steps of applying what you learn here to the real world
What else do you need to succeed in getting rid of your job? Only thing left over is your own determination.
For 50$ a month, it is a real bargain. It is really worthwhile to check it out, you will never regret for spending the first 50 bucks to find out such a great opportunity.
Thank you, Coach. Great site.
---
Testimonial From: macgyver
Before I joined PPC-Coach I was like a starving dog, feeding off of scraps of information. Now I'm a wolf!
PPC-Coach helped me turn internet marketing from something that I did in my spare time, to something that I can do as a profession. The best part about PPC-Coach, however, is that support that the community offers; there are so many great guys on here that will try to answer any question you may have (no matter how n00b)
Nick
---
Testimonial From: Chad
I highly recommend PPC Coach to anyone wanting to get involved in pay per click marketing. I feel I get my monies worth simply with the campaign building tools and the forum. There are tons of successful people on the PPC Coach forum willing to help, and you're encouraged to ask questions. The tools speed up my work flow as well. I have made more money online since being a member of PPC Coach than ever before.
---
Testimonial From: jabby
PPC-coach is completely different from the many other online products. It is well organized for new users with lots of great videos that have got me up and running in a matter of several days. The step-by-step tutorials are perfect to get a beginner up to speed on the small stuff before jumping into the bigger campaigns.
The moderators are attentive and helpful and will answer any of my questions at any time and the community itself is filled with people who want to help each other out as well. It's one thing to hear it form someone who is successful, but it's quite another to be able to run your ideas and questions by other users who are in a similar position.
I wish I found it much earlier so I could have left my day job long ago.
---
Testimonial From: colgoose
As a complete novice, it has taken me a while to pick things up (about 6 months so far), but I'm just starting to make a few dollars a day and I'm confident that with more hard work I'll be able to add a few 0's on the end of that figure. There is always help on hand so it really is down to you to make what you want.
Matt
---
Testimonial From: Zesty
Some time ago I heard about affiliate marketing, so I picked up a 'how to make money with Google' ebook. I even put it in a little plastic binder to refer to as I would go on my journey from zero to hero. Well, it didn't even take me 20 minutes of messing around with the entire complex system of PPC before I started to HATE affiliate marketing. I felt overwhelming disgust at the 'fake' sleazy feel, the insane competition, and the complete utter lack of direction… I felt like I had gotten on the boat too late and that there was no point in pursuing it. I threw the binder away..
A bit later, my friend was talking about his profit numbers and that intrigued me. He said he learned from a great site called ppc-coach, so I once again checked it out. This time around I was attracted to the no-hype vibe of ppc-coach's sales copy – so I gave it a whirl once again.
THIS time around, I LOVED it. I can't get enough of ppc-coach… I have been hooked for a few months now, and I'm not going ANYWHERE any time soon. Most guru books teach you a dried up method that every person under the sun learns, making it no longer effective. PPC is a business which is always changing, and that's what I love about the forums – It's DYNAMIC and keeps up with the changes and trends and ever-changing environment that other static ebooks/systems can't offer. I also love my fellow posters who I've talked to through PM and messenger, and they've helped me personally on my way to several hundred dollar profit days.
I would have never made it in a million years without the actual things I learn in ppc-coach… even if half the information were available online for free, they wouldn't work any more by the time you bury through 50000 threads on other popular & free forums. PPC-Coach seriously rocks my world, and it's brought me to a place where I can't do anything BUT affiliate marketing… it's my new passion, 'career' and life direction.
---
Testimonial From: iDemonix
My name's Dan Walker, I'm a small startup affiliate marketer from the UK. I've been with PPC-Coach for just over 4 months now, I signed up because I was curious as to what was on the other side of the login. I decided I could afford the first month, but I wouldn't go on to pay for another month unless PPC-Coach paid for itself. So I signed up, and made just over $120 in my first month. Because of this I carried it on, and I've slowly built myself up to a lot more a month. Whilst I'm not saying PPC-Coach will bring you instant riches, it won't, but it does provide a wealth of information and resources with a friendly community that will help you every step of the way, up until a few months when you'll be helping the new students!
If you're expecting to signup and earn thousands instantly, don't bother. If you're looking for a great community of familiar faces who will offer their expertise as much as possible to help you achieve your goals, you shouldn't be reading this testimonial – you should already be half way through the sign up page! See you on the inside!
---
Testimonial From: narayanchik
I just want to assure everybody that there is big opportunity in front of you. I didn't know much about PPC world a year ago, but I'm living my dream now. 3 Months ago I fired my boss and hired my wife. We now both do affiliate marketing from home. I thank PPC Coach for teaching me the technical skills that I was lacking in my journey.
---
Testimonial From: FixMyPPC
PPC Coach has been a huge asset in me finally getting my head around ppc advertising. Before joining up with the coach I had lost considerable money over the last several years with Adwords and in fact I had not even run a campaign for about 2 years before joining because I just wanted to give up.
After checking out all the training videos, the tools and the especially the forums it was time to get to work with the first month's lesson. Working with the concept in month one I was able to earning back an entire year's monthly membership fees in about 3 weeks. Since then I have been able to have several rock solid campaigns making some serious profit from the things learned at PPC Coach.
All the lessons are great, but the forums have been the biggest source of encouragement and learning the extra tips that help you earn those bigger paydays. Without anything else, the forums alone are worth the price of admission because the guys making huge bucks are willing to help out and share little tidbits of info that can get you on the profit side of this whole ppc game.
Is PPC Coach worth it? I can tell you I've gone from losing money on 95 % of my campaigns to earning more money than I ever thought possible through pay per click marketing. Is it worth it to you to finally stop losing money and figure out what really works? If it is, then you should give the coach a try.
---
Testimonial From: Kraggy
The beauty of PPC-Coach.com is that it does not take all members and force them into some cookie-cutter pattern. Instead, it encourages you to develop your business at whatever scale you desire. Some members learn to use PPC as an effective secondary income, others are soon hiring employees to fulfill their vision and expand their internet marketing profits.
Joining the site did not make me instantly wealthy, but making use of its tools and resources allows me to earn to my full potential. It has even revealed potential I didn't know I had.
---
Testimonial From: elcama
As I have reached retirement age, but without a pension, I still have to work full days. For the past eight years I have searched for ways to make money on the Internet. I have tried various options, but in vain. Selling eBooks, network marketing and building a website around a niche market did not bring my anything in the pocket.
I live in South Africa and two of my countrymen became fabulously rich. One created Thawte and the other PayPal. I'm not a programmer and I realized that somebody must take me by the hand and show me how to do things. PPC-coach does just that. They take you step by step and provide you with excellent tools. You can start to make money immediately. At last I see light at the end of the tunnel.
---
Testimonial From: mpinelli
After researching all the paid forums online that deal with affiliate marketing and CPC advertising, I narrowed it down to 2-3 sites with PPC-Coach.com being one of the candidates.
Some sites offered free hosting, others offered other discounts and free offers….but since PPC-Coach was very simple and straight forward with what you would get I decided to try it for a month. After joining I immediately knew i made the right choice. There is an extensive video library with step by step instruction on how to start off creating successful websites. In addition to this great library there are a bunch of forum members all willing to help complete strangers out…..strangers whom have a common interest; Getting their share of the billion dollar internet marketing industry.
And dont forget all the great tools. Website generators, adwords campaign generators, tracking programs, and so much more.
You dont need to take my advice nor even believe it. But I'm just stating fact. Im not saying you're going to make a ton of money on day one, week one, or even month one…..but if you're serious about giving online marketing a try the investment in this forum site is worth every cent.
---
Testimonial From: larkykid
This is a great place to come, learn and apply internet ppc marketing. There are a ton of tools and resources available to get you up and running your campaigns as soon as possible. All the other members are willing to help you if you're having problems and you can contact the coach himself. The first month's technique has also been laid out step by step by one of the members, so if you're a newbie, you can also get started very quick.
What I really like about this site is that the diverse mix of members really adds to the rich learning environment, and everything is realistic unlike other sites promising untold fortunes without any effort and bombarding you with upsells, you don't get any of that here.
You can even get discounts on recommended tools as the coach pays back the commission, now you dont see that anywhere else and hence the sense of being in a genuine and real community and not just some scam site.
However, the most important thing is to make money and I am pleased to say, as soon as getting my first campaign up and running, I made my first couple of dollars, so the techniques and strategies do work!
As long as you put in the effort and try your best, you will be given guidance all the way, taking control of your financial future and ultimately your life.
---
Testimonial From: newreek
I've been active with PPC-Coach only a few months, and while I'm not yet rich beyond my wildest dreams, I'm certain that with the help, coaching and encouragement this site provides, that my success is imminent. Just read through the forums on here. They are full of no-bull info on how to develop and launch successful PPC campaigns. The information that's presented on the forum by the Coach, his moderators and all the members, combined with the tools and resources offered here, for me, have created an awesome bridge of knowledge from the point of "I'd like to earn money through Internet Marketing" to "I am earning money through Internet Marketing".
However – be warned. This is not a get rich quick scam. This is the real deal. You gain the knowledge and methodology here, but You must do the work to gain experience and become successful.
Cheers!
---
Testimonial From: Ryan
Pay Per Click marketing has been something I've been researching for some time and could never find the right place to maximize my learning. After several months I found PPC-Coach.com. I have been very impressed with the quality of the membership and the expert coaching provided by 'the Coach.' I have seen my skills in affiliate marketing increase exponentially in the time I have been a member. The approach of starting basic and adding more complex learning each month has been very useful. PPC-Coach focuses on goal setting and then going about helping you achieve those goals. I would certainly recommend PPC-Coach to anyone interested in pay per click marketing, whether you are just entering the field or have experience and want to tweak and expand your skills.
---
Testimonial From: Darren
As a newbie to internet marketing and in particular ppc marketing I was hestitant at first in joining ppc-coach. Since taking the plunge and subscribing I have been very impressed with the high level of personalsied service I have recieved from ppc-coach. All my questions have been answered and the investment has been well worth it. In fact, I recently forked out $3k for a "internet marketing" coaching program that was no where near as good as ppc-coach. Great value and a great product.
---
Testimonial From: Joel
In my first 30 days of implementing ppc-coach's advice I made $2,228.55 in commissions with a lot of work but very little financial risk.
---
Testimonial From: Ralph
I'm just an average college student looking for ways to make some extra money to spend on whatever I felt like (fixing up my car, clothes, food, etc.). I only wanted to make about $50 a day and I'd be happy. The first week, I actually lost money, but after that, I began making steady progress and started profiting each day. After 2 weeks, I'm getting really really close to that goal (which i thought would take much much longer) and now I see the potential of this industry and am thinking about doing it full time. Thanks coach for giving me this opportunity!
---
Testimonial From: Keith
I've been in the affiliate marketing business for over 4 yrs & for 3yrs+ it's been my only source of income. I've travelled all over the world & no longer worry about a mortgage. I obviously have knowledge of PPC & as an experienced affiliate I have not yet seen any 'secrets' – but then I dont think you promised any did you? What I have found is at least one 'nugget' per month that in itself justified my monthly subscription, a clean down to earth no B/S approach and a willingness to answer all queries from newbies & veteran's alike. But the real value is in the forum – that alone covers the monthly subscription in my book!