Perry Marshall Interview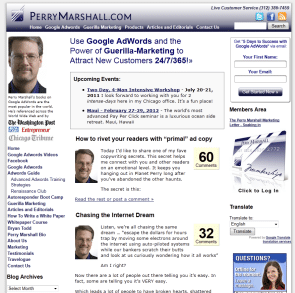 Join us for a Webinar on June 27, 2011 at 9:00 am eastern standard time.
Space is limited.
Reserve your Webinar seat now at:
https://www2.gotomeeting.com/register/784494579
We've got a huge webinar for you guys this time. Perry Marshall is coming on live and in person and we get to interview him. The format will be about 20 to 30 minutes of interview then we'll open it up for some questions from the audience.
For those of you that don't know, Perry is the guy behind one of the best Adwords books out there: "the Definitive Guide To Adwords". His written other books on Google AdWords that are the most popular in the world. He's referenced across the World Wide Web and by Washington Post, USA Today, Entrepreneur & Chicago Tribune.
I'd love it if you could join us for what is sure to be a very insightful and educational discussion about Pay Per Click marketing. Title: Perry Marshall Interview Date: Monday, June 27, 2011 Time: 9:00 AM – 10:00 AM EDT After registering you will receive a confirmation email containing information about joining the Webinar. System Requirements
Perry Marshall Interview Techy Stuff
PC-based attendees
Required: Windows® 7, Vista, XP or 2003 Server
Macintosh®-based attendees
Required: Mac OS® X 10.4.11 (Tiger®) or newer
Perry Marshall Interview Summary
We think this is going to be a full webinar. We have limited space so please register now.  The link to register is here:
https://www2.gotomeeting.com/register/784494579
We've done quite a few of these webinars and interviews in the past and they always fill up quickly.  This one is going to be no different.  So if you've ever wanted to ask Perry Marshall anything live, now is your chance.  Register now for the Perry Marshall interview it's 100% free.