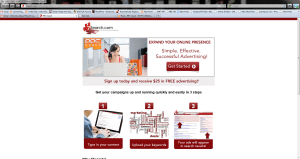 PPC Coach has teamed up with 7search to get you FREE advertising.  7search is a great PPC platform and we do train our members on how to use it effectively inside our huge members only forums.  We have a method dedicated to using them profitably.  Now you can get $25 in free advertising with them through a special deal we landed.  Click on the image at the left or click this link: PPC Coach 7search $25 free advertising
We know that a lot of PPC marketers might have tried 7search in the past and may have failed, but that's simply because they were NOT doing it right.  There's a couple special steps you need to take in managing your campaigns with them and that's what we show you.
First you must make sure you're blocking bad sites.  Bad sites are just sites that are not converting for you.  That will depend totally on the campaign you're running and the niche it's in.  It doesn't mean 7search allows bad traffic, it just means that some sites will work with certain niches and others won't.  So make sure you do that, there's a special request you have to make and some tracking tokens necessary to do this.
Second is something that a lot of people get confused with.  7search has "click free" traffic from some keywords.  Those keywords still do charge you per click, but click free means exactly that, they're redirects from broken links based on the keywords you have in your account.  We've found that most of the time, these to do not work well for direct marketers.  So we suggest deleting them all from your account.
That's the two main things, but sometimes it's best to see all this in action, that's what we provide on the PPC Coach site.  We almost FORCE our members to take action so that we can coach them, (that's why we're called PPC Coach!).  So our members try things, get stuck, get solid advice and guidance, then succeed.  We've been doing this coaching for over 4 years now and are getting very good at it.  In fact we got so good at it that a lot of other sites started popping up trying to do what we do.  That's fine we love competition as it only makes us stronger.
So take advantage of this awesome offer right now by going to this link: $25 7search free advertising  Free money is a great thing and if you've got that and our help, you cannot help but succeed!  Please help me by spreading the word about our special deal with 7search, just send people to this post so they can take advantage of the offer as well.  Just to be clear, you do have to deposit $50 in order to get the $25 free, but that's fair in my mind.  I just want to put that out there so people do not think we're trying to trick them at all.
If you have any questions, post them and we'll help you out.  If you're looking for a great mentor/coach, give our $1 trial a try right now!