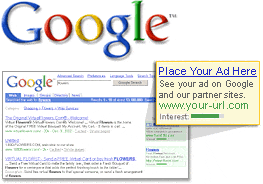 Adwords Coaching
I had someone ask me the other day if I did adwords coaching? I was a bit stunned by the question as I thought I had made it pretty clear what PPC Coach is all about. Of course I do adwords coaching, that's a huge part of my business. Before Google decided they hated affiliate marketers I did a lot of adwords coaching. Now that they've banned over 10,000 affiliate accounts, my adwords coaching is more focussed on small business owners and corporations who want to get their business seen on adwords.
Top 3 Things To Ask Someone Offering Adwords Coaching
The next most frequent question I get is how do you find someone who offers adwords coaching. Well there's one big adwords guy who does it, but he came from a business background, so I consider him a bit spoiled. It's FAR easier to sell your own product or services on Adwords then it is to sell someone elses. That's where I have an advantage as I've put up my own money to sell other people's products and services, that means I have to be a bit more careful and knowledgeable about it. Anyhow, here's what I would be asking or looking for when seeking adwords coaching:
Is the person providing adwords coaching an account manager or do they have an affiliate marketing background or have they only sold their own products online before? There's a huge difference between the 3 and I personally think anyone with an affiliate marketing background has the advantage here. Mainly because they're putting up their own money to sell other people's products or services in exchange for a commission. Meaning they worked or work on far smaller margins and have to be that much better at it to make a living.
How many people have they provide adwords coaching for in the past? I know i've had over 8,200 people through my site, but has the person even provided their services to 10 or 50 people? I prefer the more experienced coach.
Do they have testimonials from real past members or coaching clients? If they don't then odds are they're either new at it or they didn't do a good enough job to get any. Make sure you check their sites for testimonials always.
That's the 3 main things I would consider, but you can add more if you like. There seems to be a lot of people offering adwords coaching out there that probably should get a bit more experience first.
What Should You Pay For Adwords Coaching
I get this question a lot as well. My answer is provided on my site here, we charge $49.99 per month for it and are the pioneers in group adwords coaching. Our members only forums have over 140,000 posts and we even offer 1on1 right on the forums too. We are the only ones who can do this because there are literally thousands of members subscribed at any given time. I think some are charging way too much for this, but they have to cover their costs and cannot compete with PPC Coach's pricing. One other thing is, if you're going to pay for an expensive round of adwords coaching, never pay 100% in advance, there are too many shysters out there that will rip you off. For adwords coaching, go with someone experienced, knowledgeable, proven and affordable. That means for all your adwords coaching needs, go with us, PPC Coach.